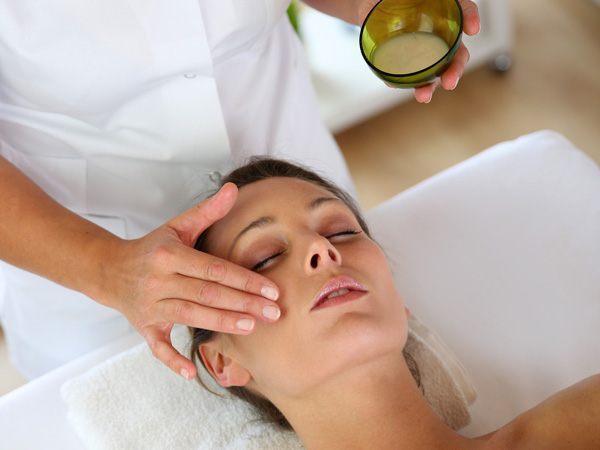 In prestigious spas around the world, Pevonia Botanica offers a line of 100% natural skincare products.
Only the world's finest and most powerful marine and botanical extracts are used by Pevonia to provide outstanding results for all skin types. Healthy, youthful-looking skin is easily maintained with Pevonia home care products. All Pevonia products are fully recyclable and biodegradable, and no Pevonia ingredients or products have ever been tested on animals.
Over 95 countries offer Pevonia Botanica in resorts, hotels, and day spas around the world. Pevonia Botanica has A-list celebrity customers.
A spa experience that delivers incredible results.
Facelift with Hydro-Cloud
60-minute session – £65
This facial treatment is unlike any other! Pevonia's Hydra-Cloud Mask Treatment uses Hyaluronic Acid and Micronized Cotton for a deeply hydrating, tightening, and anti-aging treatment. It is suitable for all types of skin, including mature, sensitive, perimenopausal, menopausal, dry, and dehydrated skin.
 Rosacea can also be supported by this treatment
Facial with Micro Retinol by Pro Clinica
75 pounds for 45 minutes
Featuring a unique formula to reveal an even-toned, porcelain-smooth complexion, this anti-ageing facial treatment reveals a radiant complexion. When combined, a deep cleanse, a gentle peel, and a Micro-Retinol treatment result in younger-looking, smoother skin. The product is not recommended for sensitive and acne-prone skin types.
Facial treatment for Rosacea
60-minute session – £65
Studies have shown that this treatment can provide exceptional results for people suffering from Rosacea, broken capillaries, severe sensitivity, and acne rosacea. A soothing thermal clay mask soothes irritability, dilated capillaries, congestion, and blotchiness. The combination of soothing and healing ingredients: Rose, Green Tea, Chamomile, and Liquorice, decongests the skin and promotes an even and healthy complexion. It is especially useful for ailments related to the vascular system.
Lift and Glow by Lumafirm
60-minute session – £65
Exclusively formulated to give instant results and cumulative skin care benefits, this exclusive treatment redefines radiance and facial contouring. Suitable for any skin type showing signs of ageing or as an instant repair boost for anyone who wants to look their best. This facial will leave your skin feeling luminous, firmer, tighter, and youthfully defined with the best anti-ageing ingredients.
Face Cream with Luminous "C" & "Sea"
A 60-minute session costs £65
This new high-tech formula combines stabilised vitamin C with freeze-dried seaweed and Squalane Oil. Relieves dull, sun-damaged skin, strengthens elasticity, and reduces fine lines. Mild yet effective, this lift-off mask retexturizer, firms, and smoothes the skin, leaving it radiant and bright. Lightens and brightens dull, sallow skin, delaying signs of ageing.
Botomer Facial
60-minute session – £65
The texture and hydration of your skin will be improved. Seaweed, an ocean's most powerful hydrator, is combined with propolis, a substance rich in natural antibiotics and Vitamin A that leaves the skin dewy and hydrated. Anyone can use this. Eczema, psoriasis, and sensitive skin types are ideal candidates.
A facial using aromatherapy
A 60-minute consultation costs £50
Using pure essential oils creates a delightful aroma for this facial. Cleaning and gentle exfoliation; an aromatic massage; and the ideal mask tailored to your skin type are included in this treatment.