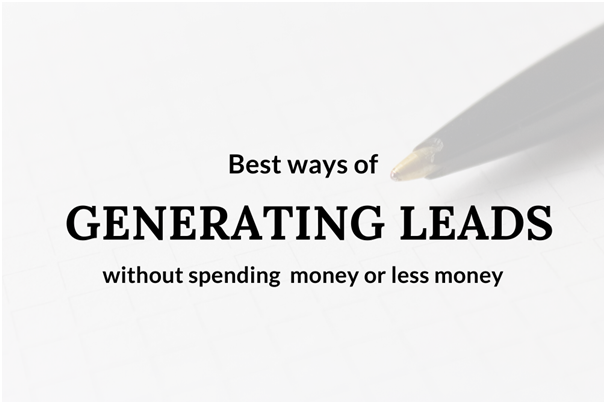 Best ways of generating leads without spending money or less money
Lead Generation is one of the most important functions of a business. Without quality leads, there will be no sales and without sales, no business can survive. The amount that a business spends on acquiring new customers is much greater than retaining old customers. Therefore to compensate this issue one must know low cost and effective lead generation strategies.  Some of the best and easiest ways to generate leads without spending a fortune are below:
1 Using the existing database or the traffic
If one has great traffic to his or her website then they can implement real-time auto-chatbots to talk with the customers. But one must also be clear about the fact that this traffic must not be bounce traffic otherwise the strategies may not work. One can very easily bring to his or her website through various social media platforms.
2 Using upselling and cross-selling the product
If two business owners are having the same set of customers but non-competing products, then they can use their strategy to upsell and cross-sell their products with the same set of customers.  This may further lead to low-cost lead generation and high sales revenue. For instance, if we try to sell tea then we can also try to sell the cup to the same set of customers.
This is one of the best low-cost sales and marketing strategies that can not only help you to generate sales revenue but also quality leads for future purposes. This is usually because a business cannot survive in the absence of quality leads.
3 Offering your product and service for a trial
As a business owner or as a service provider one can very easily get high-quality leads by offering their product or service for trial purposes. Through this strategy, one can very easily get high quality and niche-oriented leads.
This can further help to decrease the cost for lead generation and improve the optimization strategy for the marketing campaigns.  Apart from these one must focus on getting the targeted customers who have a genuine need for the product.
4 By bringing attractive offers to the customers
Customers love to get great products at amazing prices. Therefore as a business owner, one needs to offer its product at great prizes to capture the market in a better manner. But one must keep in mind the fact that this strategy must not be at the cost of heavy losses.
One should know how to open the sales season and low-cost marketing strategies to attract potential customers. In this way, one can not only get the sales revenue but can also get some high quality leads for future business.
5 Word of the mouth marketing
Word of the mouth marketing strategy is one of the oldest strategies to brand your business employing people and to generate the leads very effectively. One can very easily get the lead just by talking to customers face to face.
This strategy will not only help you to reduce the cost but will also help you with organic brand building.
6 Inbound marketing strategies
Inbound marketing is one of the best strategies to attract potential customers using engaging and delightful content. One can very easily optimize their content using strong SEO friendly keywords. This particular strategy will not help you to improve the website ranking but also to produce an organic reach.
7 Reviews
To attract one's fellow audience and targeted customers one must have high-quality reviews both in social media and search platforms. One should, therefore, know how to create video testimonials and generate high-quality reviews about your product or service. Nowadays customers read about Google reviews before making any purchase decisions.
So basically to get effective leads from low-cost marketing strategies one can adopt any of the above strategies. If the database of the leads is good then the efficiency of the salespersons or the business development executives may increase automatically resulting in more sales and more profits.
Author Bio
Fehmeez is fueled by his passion, maverick with a mind of his own; he comes up with novel ways to provide the best possible outcome.
An enthusiastic Person, with highly motivated and leadership skills having a Master's in business administration in Marketing and International Business.
His Hunger, to learn new things and methodologies makes him unique, currently working as Digital Marketing Analyst for KAP Enterprises major brands like Kapsystem, Best Call Center, Arishna Digital Communication, and Arishna DataCommunication and does content