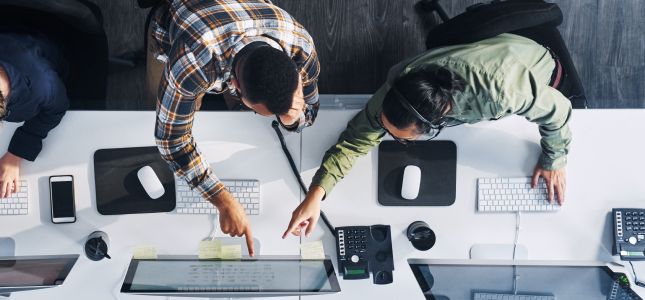 How RPA and Intelligent Automation Can Help Your Organization?
Intelligent automation (IA) is a combination of two technologies that are robotic process automation (RPA) and artificial intelligence (AI). Both of them work together to allow people to manage their end-to-end business processes with complete automation and address the issues of rapidly changing digital technology.
AI & RPA: Individual Definitions and Functions
The term 'AI' is artificial intelligence also refers to technology that can solve many problems with software testing. Many businesses have AI-based mobile and web applications because it allows them to make big decisions and reduce their mundane and tedious tasks due to testing and custom development.
The technology has already improved the lives of customers by offering them unique software like Amazon's Alexa, Apple's Siri that allows users to confirm the flights, check the weather, get answers to questions, perform searches, and much more.
RPA is another technological application that strives with one single mission that is to automate the business either through robots or software. The procedures can be anything from deploying intelligent bots to create automated mailing lists to repair software systems.
With RPA systems, you can smoothly manage the business-based daily operations, which requires too much repetition. On the flip side, the functions of AI (artificial intelligence) focuses on finding more creative solutions and innovative answers to problematic issues. With AI, one can derive the data patterns with the utmost ease and make the analytics-based predictions to improve the business landscape.
Due to many similarities in AI and RPA, many IT firms have started to launch intelligent automation software to maximize machine learning because it makes the interaction between suppliers, customers, and employees more satisfying and profitable.
By using Robotic Process Automation (RPA) and Artificial Intelligence (AI), which are equal to Intelligent Automation (IA), organizations can streamline any sort of procedure from start to finish. A typical end-to-end process includes both structured and unstructured data. Similarly, it classifies the document using AI and assists in passing the required actions to RPA.
How Does IA (Intelligent Automation) Perform?
Intelligent automation operates with the use of cognitive technologies and further integrates with RPA. Unlike traditional automation that depends heavily on structured data inputs and codified instructions, the IA gives help to each phase of the automation cycle and ensures advanced improvements.
In the initial stage, the IA cycle starts from the process discovery. One of the powerful tools of artificial intelligence automatically detects people's work activities, pinpoints the ideal workflows, and suggests a path to automation. In the automation stage of development, smart automation needs to be applied with AI to obtain the human chat conversation, unstructured information, video, and audio, which again is vital for making end-to-end optimization better.
Benefits of Using RPA and AI in a Reality
As we discussed earlier, automating any business processes with the combination of AI and RPA is extremely easy, specifically when it comes to tackling complex issues in reality. The blend of artificial intelligence and robotic process automation enables the development team to design cognitive bots and gives them access to make well-informed decisions. Due to intelligent automation in the new era, it gives the crisp opportunity to think about how businesses work and integrate with the technology and people. Here are some business benefits of RPA and AI:
Minimizes Operational Obstacles
Cognitive automation is mainly curated for handling the inconsistent methods and the data, which is present in an unstructured format. Furthermore, the primary purpose of merging the RPA and AI in intelligent automation is to offer easy navigation for legacy systems and connect the front & back-office operations with other functions.
Improve the Organization's Cybersecurity
Regression testing is always performed on artificial intelligence (AI) as it is useful for gaining the performance metrics of mobile and web applications. Similarly, mobile test automation is considered more of a monitoring tool than a functional testing tool. Therefore, the same process followed by intelligent automation and RPA while implementing the data structures and analyzing the networks better to protect the business from cyber attacks.
Avoid Exceptions and Errors
Many software testers and RPA specialists are available in the market that one can prefer to improve the accuracy and efficiency of complex procedures and routine tasks. Besides this, the automation bots are intelligent enough to lessen the exceptions and errors.
Delightful Customer Experience
Compared to the manual systems, intelligent automation delivers accuracy, more consistent results, faster response times, and guarantees the delightful customer experience while working with this top-notch platform. There is no need to worry about the complexity during running the business applications because the intelligent digital workers are flooded in the market to fulfill the particular requirements related to the AI and RPA. Additionally, the intelligent process automation systems proffer the fraud detection and monitoring capabilities to the employees and keep them more focused at the time of using unique objectives and skills.
Organize & Process Complex Data
No matter how large and complex data you have in your application, the framework of the IA works wonders with the tools to collect, store, capture, and manipulate the records from unstructured sources. Financial advisory with a smart virtual assistant can be taken instantly during complex tasks such as the opening of new accounts and the processing of retirement rollovers.
Greater Compliance with Regulations
Previously, the industries used manual inputs to solve legal matters. But from now, the data will be secure swiftly with the intelligent process automation tools. Whether it would be the matter of record retention, meeting the financial regulation, and uphold the sales policies, assures the management of workflows without human interference.
Major Reasons Why RPA and AI Combined in a Single Package
To reduce human errors from the client's projects that mainly happen by the workforce.
Boost the productivity of your organization.
Manages data more effectively and saves extra spending.
Maintains transparency in projects through customized reporting support and tailor-fit dashboard.
Save the workforce from monotonous and painful tasks.
To Conclude
With the execution of intelligent automation, you can generate a high ROI in business and can leverage the brand value. If you want to combine the business model with this powerful technology, you can talk with the online experts. They have employees to give you customer satisfaction and considerably deliver your project at minimum cost.
Author Bio: Claire Mackerras, is a Senior QA Engineer & Editor associated with Bugraptors specialized in software testing services. She is passionate about writing on technological trends for manual & automation software testing.